Our Activities
Activities Carried out
The National Youth Development Organization (NYDO) has been carrying some activities to empower youth amongst local communities and youth groups. Some of these activities are shown in the preceeding pictures
The second IT/ICT workshop was held at the Preventive Conference has Hospital Roundabout Bamenda. This workshop also registered some 30 participants who were mostly women and a few young girls. Participants were opportuned to take back a fairly used PC set and a printer. This was to ecnourage them and keep them going with the knowledge gained during the training.
Women empowerment through IT/ICT
The first women empowerment workshop was organized by the NYDO in partnership with the Covenant Computer Plaza at their small mankon training hall. This empowerment workshop registered some 30 participants who were trained on PC operation and a mastery of some applications that are commonly used in commercial documentation like; MS Word, MS Excel, MS PowerPoint, PageMaker, Photoshop and PrintArtist
These participants who were mostly young girls and women took some 12 weeks to go through the empowerment progam. The aim of this project was to bridge the digital divide and get more girls and women involved in the IT/ICT field. The focus was on girls and women because they are often left behind most of the development process and some who are involved shy away.
From this pilot project hope was built amongst these female sex as concerns IT ICT and the hidden potentials women have as far as this is concerned.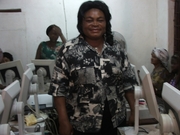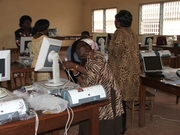 Particpants during the second IT/ICT empowerment workshop
In the area of Health, NYDO participated in workshops in the area of "Sharing our experiences as volunteers" and "Counseling Workshop" organised by the Cameroon Women Association (CMWA) in Collaboration with Voluntary Service Overseas (VSO)
These workshop had to school participants on who a counselor is, the role of a counselor and volunteering as a counselor. Participants in the rich workshop shared knowledge and experiences gained on the field while doing counseling and testing.
Happy participants during the IT/ICTempowerment workshop
NYDO also organized a Human Rights Education workshop with the support of Youth for Human Rights International with headquarters in the US.
NYDO realised that most young people were ignorant as far as human rights is concerned. They were informed and educated on what human rights was all about, their rights and those of the child, where and when to exercise their rights, where and what rights are limited.
With the limited resources and finances, NYDO hopes to secure more funds and extend this project to the entire region and Cameroon as it has been seen that these young people are very ignorant about what HUMAN RIGHTS are.